SWOT Analysis Of Nissan analyzes, Nissan is a major automotive manufacturer. It is involved in the production and sale of vehicles, boats, items along with spares for them. They have major operations across Japan, South America and Europe. Their headquarters are at Kanagawa, Japan. Nissan is world's largest electric car manufacturer. Nissan sold around 3.2 lakh all-electric vehicles till April 2018, which is highest ever by a manufacturer around the world. The Nissan Leaf is the highest selling all-electric model from the brand and interestingly, it may launch in the Indian market soon.
Did you know?

Nissan used to have a booming aerospace industry. They designed and developed engines for the Lambda 4S-5 spacecraft which launched Japan's first-ever satellite, the OHSUMI.
Ranked amongst the topmost automakers of the world today, Nissan Motor Company Ltd. is a Japanese multinational car-manufacturing company headquartered in Nishi-ku, Yokohama, the beginnings of whose automotive innovations date back to as early a time as December 1933.  Nissan went through several name changes throughout the 1920s, and it wasn't until 1934 that Nissan Motor Company was used for the first time. A company called Nihon Sangyou, or Japan Industries, merged with what would become Nissan Motor Company in 1931.
This can only be achieved through a firm with extensive knowledge, experience, and innovative strategies. To determine the strengths of the company potential, weaknesses, opportunities, and threats, it is necessary to conduct a SWOT analysis by Nissan.
Nissan At A Glance – Nissan SWOT Analysis
Company: Nissan Motor Company
Founders: Yoshisuke Aikawa | William Gorham | Masujiro Hashimoto | Rokuro Aoyama
Year of establishment: 26 December 1933, Yokohama, Kanagawa, Japan
CEO: Makoto Uchida
Headquarters: Yokohama, Kanagawa, Japan
Employees (Dec 2020): 136,000
Ticker Symbol: NSANY
Type: Public
Annual Revenue (Dec 2020): Yen¥168.6 Billion
Profit net income (Dec 2020): Yen¥448.7 Billion Loss
Products & Services: Automobiles | Commercial Vehicles | Financial Services | Automobile Repair | luxury vehicles | Outboard motors | Forklift trucks
Company Website: www.nissan-global.com
Top Nissan Competitors 
Competitors: Ford | General Motors | Honda | Hyundai | Toyota | Suzuki | FCA | BMW | Yamaha | TATA | Volkswagen | Chevrolet | Fiat 
Nissan SWOT Analysis – SWOT Analysis Of Nissan
SWOT Analysis Of Nissan analyzes the brand based on its strengths weak points, weaknesses, opportunities, and threats. With Nissan SWOT Analysis it is clear that the advantages and disadvantages are internal factors, while threats and opportunities are external elements. Here we are going to talk about Nissan SWOT Analysis. Below Is The Detailed SWOT Analysis Of Nissan.
Nissan Strengths – Nissan SWOT Analysis
1. Brand Valuation: Nissan is ranked at 64 1st in the report by Brand Finance. Its brand value is in the range of $17.785 billion. It is a major player in the automotive sector.
2. Sector rank: Nissan ranks 7 7 globally in the automotive industry with regard to brand value.
3. R&D: Nissan has an impressive amount of money spent on R&D. In the financial report for FY 2015 they reported spending $4.626 billion. It was an improvement of 1.1 percent from the previous year. Their initiatives concentrate on safety of vehicles, environment, electric and hybrid technologies and future technology.
4. The Product Portfolio for the future: Nissan has started to shine in the hybrid and electric market also. Nissan has announced the launch of rediGO, a hybrid vehicle that is available in India. Nissan LEAF is the first 100% electric vehicle, holds more than 50% of the world's electric vehicle marketplace.
5. New Products on the way: Nissan is confident that it will add commercial autonomous vehicles before 2020. It has also partnered with NASA to achieve similar.
6. Brand Portfolio: They are not focused or dependent on any one market segment. There are products available in passenger automobiles, zero emission vehicles Compacts, wagons and sport utilitarian vehicles (SUVs) mini wagons, crossovers luxury vehicles, pickups and commercial vehicles with light weights. They also offer marine-related products which include pontoons and motorboats as well as pontoons, engines, motor clean boats, cruises, and cruises.
7. Geographical presence: They manufacture in 20 countries, and they have a sales in over 170 countries. Their main areas of business include Japan, North America, China, Mexico and the Middle East.
8. Strategic Alliance: Nissan has joined forces along with Renault in order to grow into international markets and share the risk. They have entered new territories together and doing well in business.
9. A high market share in North America: As can be seen in the chart in the following graph, Nissan has a high market share in North America.
Nissan Weakness – Nissan SWOT Analysis
1. The risk to the value of brands: Nissan dropped 10 spots within the Brand Finance report. This drop in the value of the brand was estimated at $300 million. This is a major issue for the company.
2. Recalls: They have recalled 768000 cars because moisture could get into the floor on the driver's side and cause electrical shorts which could result in an explosion. The negative publicity from these recalls affects reputation of business and lowers customer confidence on the company's brand.
Nissan Opportunities – Nissan SWOT Analysis
1. Automotive industry growth: The automobile industry is expected to expand at a CAGR of 6% between 2015 and 2019 and will reach $1.5771 trillion by the year 2019.
2. Growth of Market Share Nissan is currently holding 6.5 percent market share. With the industry expanding, they stand a great chance to expand their business. They are also exploring new business areas in partnership with Renault which has provided them with an edge in this venture.
3. Alternate fuels: The demand for hybrid electric vehicles is on the increase due to environmental issues that are associated with traditional fuels as well as the prices of crude. The major markets for HEVs are US, Western Europe, and Japan and China.
4. Electronic Vehicles Demand for electric cars is expected to be approximately. 7.5 million units at the year 2020's end. The demand is increasing by a CAGR of 29.4 percent over the course of between 2015 and 2020. Nissan together with Renault plans to place 1.5 million vehicles powered by electric on the roads around the world by the year 2016.
5. Emerging markets: There is the goal of 8 percent market share. To reach this, they have to concentrate on emerging markets. China along with India are great options to achieve this.
Nissan Threats – Nissan SWOT Analysis
1. Competitors: They have intense competition for sales and market share with a variety of manufacturers. BMW, Ford Motor, General Motors, Honda Motor, Isuzu Motors, Kia Motors, Mazda Motor, Mitsubishi Motors, Navistar International, PeugPeugeot Citroen, Suzuki Motor, Toyota Motor and Volkswagen are just some.
2. The Global Economy fluctuations in the foreign exchange market and in the current economic situation could affect sales and the demand for cars on the markets outside of the country. The company is heavily dependent upon numerous countries for the purchase of components, raw materials and other services. The rapid fluctuations in the world economy could influence the production and pricing of cars in a significant way.
3. Government regulations: We are increasingly conscious of its environmental impact and is now deciding to purchase cars that emit less. The government is making stringent policies for emission levels of exhaust fumes, carbon dioxide/fuel economy guidelines, noise level limitations, recycling-related restrictions and safety standards.
Nissan SWOT Analysis Overview Template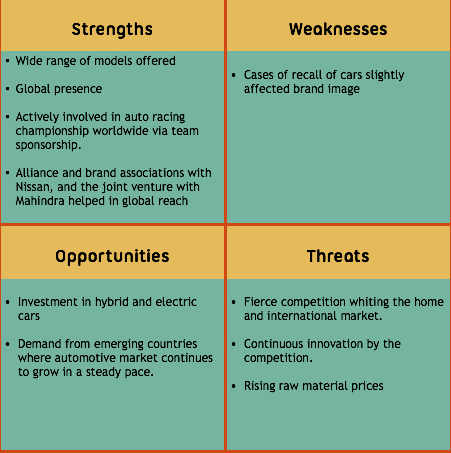 This is the SWOT report that Nissan has done. Please let us know if you have additional suggestions to add.
---
Let us know What do you think? Did you find the article interesting?

Write about your experiences and thoughts in the comments below.