Kellogg's SWOT Analysis Analyzes, Kellogg's, in full Kellogg Company, leading American producer of ready-to-eat cereals and other food products. Kellogg's Corn Flakes was one of the earliest and remains one of the most popular breakfast cereals in the United States. Headquarters are in Battle Creek, Michigan. The Kellogg Company, as it was ultimately named, followed a straight and profitable path, avoiding takeovers and diversification, relying heavily on advertising and promotion, and posting profits nearly every year of its existence.
Did You Know?

Kellogg's has been to the moon! Yep the Apollo 11 astronauts brought a Kellogg cereal to the moon, as part of their breakfasts during the mission.
Kellogg's arrived in the UK in 1922. Kellogg's Corn Flakes and All Bran were the first introduced to the British Public, imported originally from the USA and later from Canada. In 1923 Kellogg's hired the industry's first dietitian to provide consumers with information about nutrition.
This can only be achieved through a firm with extensive knowledge, experience and innovative strategies. To determine the strengths of the company potential, weaknesses, opportunities and threats, it is necessary to conduct a SWOT analysis by Kellogg's.
Kellogg's At A Glance – Kellogg's SWOT Analysis
Company: The Kellogg Company
Founders: Will Keith Kellogg
Year of establishment: 19 February 1906, Battle Creek, Michigan, United States
CEO: Steve Cahillane
Headquarters: Battle Creek, Michigan, United States
Employees (Dec 2020): 34,000
Ticker Symbol: K
Type: Public
Annual Revenue (Dec 2020): US$15.5 billion
Profit net income (Dec 2020): US$1.76 billion
Products & Services: Oats Veggie Nutri Cutlets | Corn Flakes Chana Chaat | Oats Peppy Papaya Drink | Corn Flakes Fruity Yogurt Cup | Oats | Chanadal Payasam | Corn Flakes Oriental Corn Stir-fry | Oats Veggie Nutri Cutlets | Corn Flakes Chana Chaat
Company Website: www.kelloggcompany.com
Top Kellogg's Competitors 
Competitors: General Mills | Mondelez International | Kraft Heinz | J M Smucker | Ingredion | Quaker Oats Company | Nestle | Conagra Foods | Frito-Lay | Cadbury |  Quaker Oats | PepsiCo | Danone | Seneca Foods | Tyson Foods | Campbell Soup
Kellogg's SWOT Analysis – SWOT Analysis Of Kellogg's
SWOT Analysis Of Kellogg's analyzes the brand based on its strengths weak points, weaknesses, opportunities, and threats. With Kellogg's SWOT Analysis it is clear that the advantages and disadvantages are internal factors, while threats and opportunities are external elements. Here we are going to talk about Kellogg's SWOT Analysis. Below Is The Detailed SWOT Analysis Of Kellogg's.
Kellogg's Strengths – Kellogg's SWOT Analysis
1. Global footprint: Kellogg's products are produced in 18 countries and sold in more than 180 countries. Kellogg's is now the second largest snack food manufacturer (after PepsiCo) after acquiring its Pringles potato chips company in 2012 from Procter & Gamble for $2.7 billion in cash in the year 2012.
2. Strategic Acquisition Kellogg's has acquired a number of businesses over the years that have aid in optimizing the utilization of resources. Kellogg's completed its largest acquisition, the Keebler Company in 2001. In the past it also went further to purchase Morningstar Farms and Kashi divisions or subsidiaries. Kellogg's also has brands like the Bear Naked, Natural Touch Cheez-It Murray, Austin cookies and crackers, Famous Amos, Garden Burger (acquired in 2007) as well as Plantation brands.
3. The High-Awareness: Kellogg's has been successful at raising awareness in developed countries. It is the world's biggest producer of cereals by sales that spends over $1 billion every year in branding advertising and marketing , and is an official partner of the U.S. Olympic and Paralympic Teams.
4. Marketing initiatives: It has positioned itself as a company that is aimed at combating hunger, specifically to be an alternative to breakfast i.e. breakfast cereal. This has helped the company achieve the part of the money of its customers. "Fighting hunger" initiative in conjunction with Walmart, Master brand television campaign, and other initiatives are among the most important marketing initiatives that have helped Kellogg to establish its position as a global brand.
Kellogg's Weaknesses – Kellogg's SWOT Analysis 
1. Uncertain marketing campaigns: Some of Kellogg's marketing strategies have been scrutinized in the media, prompted by a rise in consumer perception of the mismatch between marketing campaigns and the product itself, that led to negative word-of-mouth. Bloggers from the food industry have been questioned about the methods of marketing employed by companies that manufacture cereals like Kellogg's because of its high levels of sugar as well as the inclusion of ingredients like high fructose corn syrup.
2. Slow Innovation: While the market for cereals is overcrowded by regional, National & international brands but in spite of this amount of competition Kellogg has not been able to take advantage of the market in emerging markets due to inadequate innovation in the ingredients and ingredients of their cereals.
Kellogg's Opportunities – Kellogg's SWOT Analysis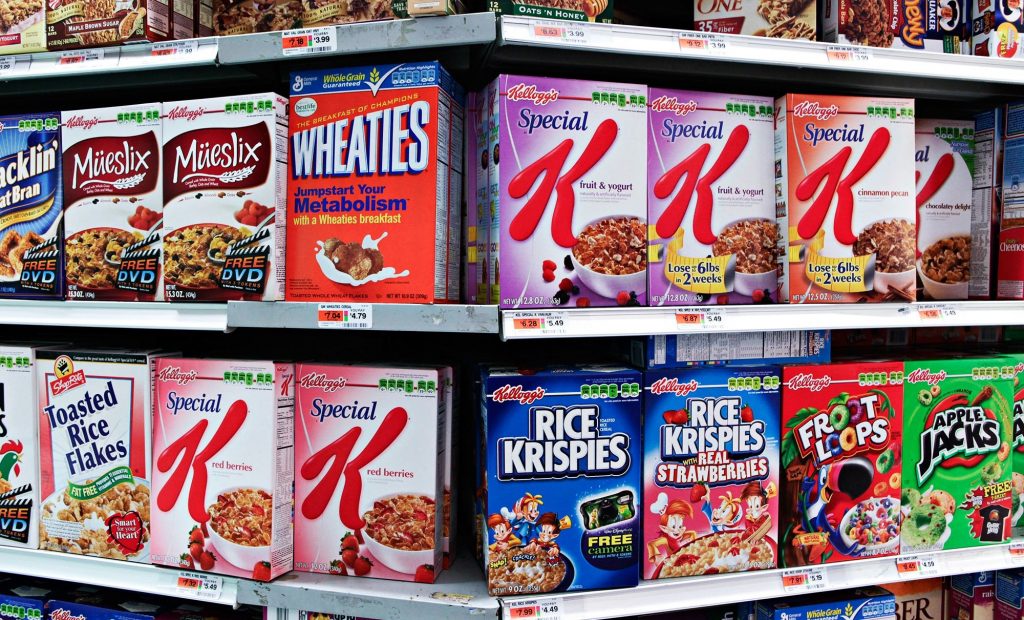 1. Market expansion: Penetrating further in the current market and targeting markets that are developing can assist the company in increasing sales.
2. Changes in life style: With the increasing population of urban dwellers with their busy and evolving lifestyles, people are searching for a quick and easy meal to satisfy their appetites and reduce their time, that is driving the rise of the industry of cereal.
3. Targeting hotels and restaurants: Many companies from FMCG and food industry are joining forces with Restaurant and hotel chains to increase their operations. There's an excellent opportunities in the future for Kellogg's should they be able to generate their revenue from this growing segment.
Kellogg's Threats – Kellogg's SWOT Analysis
1. Competitiveness: Inter Industry & intra industry competition is one of the main factors impacting the industry as overall. Food products that are ready-to-eat, local food establishments, and restaurants that are within close proximity are a few reasons that hinder the growth of the cereal industry.
2. Regulations of the government: Policies of the government pertaining to content and ingredients that are used in cereals are creating major obstacles to their development.
3. A changing life style: With the increase of urban population, office-based workers spend less time, and now they're shifting into "Take off outlets" to cut down on time.
Kellogg's SWOT Analysis Overview Template
This is the SWOT report that Kellogg's has done. Please let us know if you have additional suggestions to add.
---
Let us know What do you think? Did you find the article interesting?

Write about your experiences and thoughts in the comments below.